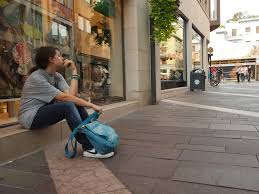 Larraine called Child Find to report that her 15 year old daughter, Nell, had left home several weeks earlier after escalating arguments over discipline. Nell had been apprehended by the police and was now living with her father, but Larraine was still seriously concerned about her safety. Larraine shared that many of their confrontations centered on Nell wanting to hang out with friends in places or at times Larraine felt were unsafe. Their latest argument concerned a boy Nell wanted to date that Larraine felt was much too old. Having run away herself for similar reasons when she was young, Larraine expressed that she wanted Nell to avoid the same mistakes she made. Larraine was also worried about Nell's exposure to street violence – there were 3 shootings in the week she ran away.
Larraine had residential custody of her daughter since her split from Gerard 4 years earlier; but unbeknownst to her, Gerard had applied for and been granted default custody. Larraine claimed she hadn't been notified of the court date when that decision was made. The order stated Nell may return to her mother's residence whenever she wished, but Larraine was convinced she would not return because Nell chose to live with her father due to his lax parenting attitude. According to Larraine, at Dad's house you didn't have curfews and it was okay to be repeatedly late to school, dress inappropriately and "hang with a fast crowd." Larraine said she has addressed her concerns with Gerard, but has been frustrated as he would often agree with her but then turn around and cave on the issues with Nell. Larraine expressed concern about her upcoming court date to reverse the custody order – as well one to as reverse a child support decision which Gerard was seeking to terminate, now that Nell was living with him.
Child Find discussed the nature of Larraine's situation from the points of view of both Nell and the family court system. Her caseworker provided procedural information on what Larraine could expect in court, noting the possibility of Nell's preference being a contributing factor. We discussed the dynamics of runaway situations, and how parents will often trigger a runaway by taking away items – such as a phone or computer – that are directly connected to what children value most. Larraine's caseworker discussed ways in which she might improve the atmosphere at home if or when Nell returned. Larraine agreed that there were things she would do differently, such as telling her daughter she loves her more often. She also said she felt she could be a bit more flexible – and that she would be more open to discussion, and would control her anger, yelling and cursing.
Further, Larraine expressed the desire to present a unified front on issues of safety when co-parenting. She stated that, ideally, she and Gerard would co-ordinate rules regarding Nell's upbringing and support each other, but she wasn't sure if that would ever be possible given his track record. Options were discussed including reaching out to Gerard through Child Find or a local mediation center. Larraine liked the idea of Child Find reaching out to Gerard, but feared it might compromise her position to do so before the upcoming court dates. It was agreed that for the time being, Child Find would remain available as a resource.
In closing, her caseworker provided her with Child Find's Parenting Apart Packet, containing tools helpful in constructing a new parenting plan. He also supplied her with referrals and links to related services they had discussed to help her navigate her family situation, and the courts. Larraine expressed great appreciation to have been able to so openly discuss her concerns and receive such useful information to improve her and Gerard's parenting skills – and ultimately, her daughter's safety.
Listed below are websites provided to Lorraine: