In Safe Hands Toolkit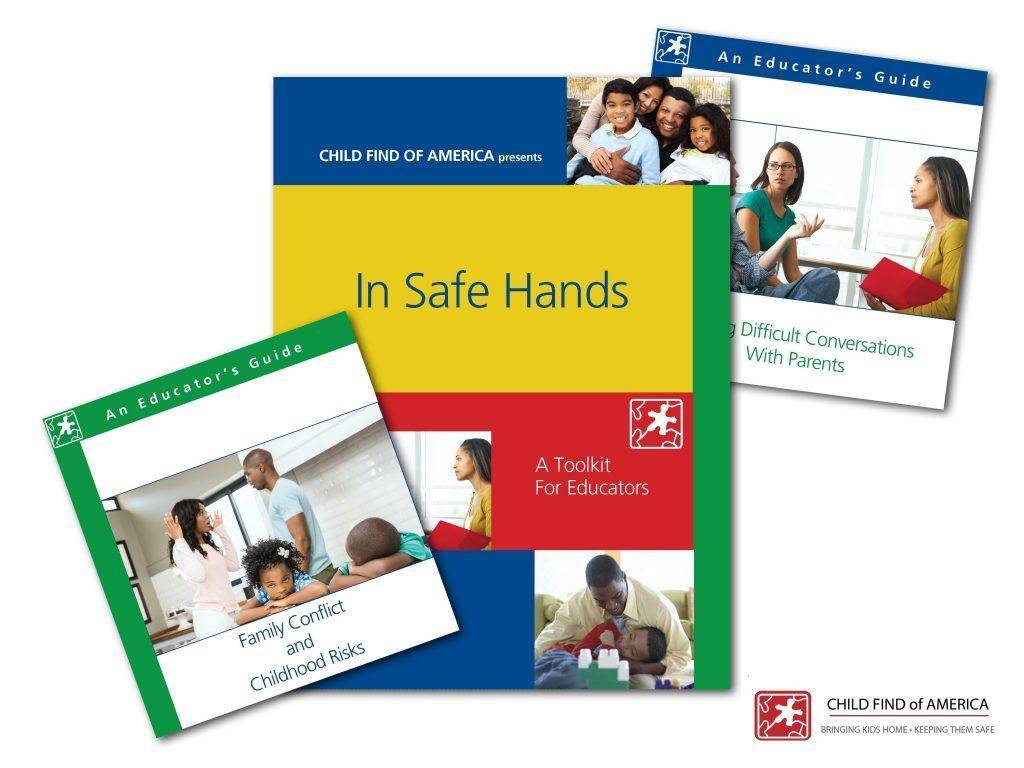 In May 2016, Child Find received a grant from the American Legion's Child Welfare Foundation to produce and distribute our In Safe Hands toolkit to Head Starts nationwide. The project was completed in September of 2017. Head Start collaboration offices in all 50 states received a free supply of toolkits to distribute to local Head Starts and Early Head Starts at annual conferences, meetings and trainings. The response to the toolkit was tremendous, with dozens of Head Start offices requesting additional toolkits – as well as trainings on its application and delivery in the field of early childhood education.
In Safe Hands Project Goals:
Educate and inform parents and professionals about the negative impact of family conflict on a child's learning and emotional health
Provide support and prevention resources to early childhood educators and the families they serve
Prevent conflict from leading to parental child abduction.
Child Find's In Safe Hands toolkit contains an array of materials for educators and parents, including guides to Parental Conflict, Having Difficult Conversations with Parents, Resources and Research Lists, reproducible tip sheets for parents and rack cards on topics like Managing Family Conflict and more!
Many parents are unaware of the impact their conflict has on their children, but research shows that early prevention interventions (especially the dissemination of educational materials) lead to better outcomes for children and families in conflict. Research tells us that from a very early age, children who live in high conflict homes show distress. They live with fear, anger, anxiety, sadness, more health problems, disturbed sleep. They are more likely to be aggressive, depressed and antisocial; have poor interpersonal skills, cognitive abilities and difficulty focusing and succeeding at school.
Exposure to parental conflict teaches kids the wrong way to interact with others. Children do not get used to parental conflict — they become more sensitive to it and more vulnerable to its effects. The situation is exacerbated by impoverished circumstances, parental depression and substance abuse. Chronic conflict between parents also harms kids because the conflict can have negative impacts on parenting skills, often causing yelling, threatening, hitting and inconsistency.
Head Start and Early Head Start staff and other professionals involved in early education are in a prime position to identify families at risk of or struggling with conflict. Head Start professionals can help raise awareness about the impact of conflict on children, reduce the stigma of seeking help, provide support to children exposed to conflict and are well placed to disseminate to parents other sources of support, such as Child Find's Parent Help program.
Child Find is actively pursuing funding for reprinting In Safe Hands kits, as well funding for Child Find's educational sessions nationwide. To help us print more toolkits to share with early childhood educators, visit our Donate page to contribute!
Click here for tips for parents from In Safe Hands!