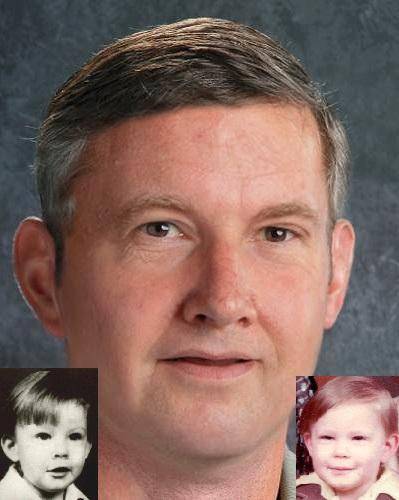 The photo in the center shows Russell age progressed to 39 years.
Date of birth: September 4, 1979
Hair: Light brown
Eyes: Brown
Child Find Case #: 11489
Russell was last seen in his fenced-in backyard in Niagara Falls, New York on May 5, 1982. His mother went inside for a few minutes to retrieve a toy, but when she returned, Russell was not in the yard. Though many neighbors were outside, no one saw Russell leave. A possible sighting was reported days later involving a 1976 (or earlier) model white Corvette convertible with a young man and woman inside.
Russell has a small mark on his left cheek and a slight cleft in his chin.
If you have any information regarding Russell's disappearance, please contact the Niagara County Sheriff's Office at 1-716-438-3393, or Child Find of America at 1-800-I-AM-LOST (1-800-426-5678).