Joyce called Parent Help when her husband David abducted their 9-year old son, Christian.  David and Joyce were living separately at the time of the abduction and Joyce was homeless with her other son, Jacob, in her care.  The custody situation was complex because Joyce and David had divorced in a tribal court (read more about tribal courts here), and although on its face the custody order in the divorce gave Joyce primary custody of Christian and David primary custody of Jacob, this was an error the court made in recording the decree – it should have been Joyce with Jacob and David with Christian.  To make matters more complicated, after the decision, Joyce and David married each other again, so it was unclear what weight, if any, their custody order truly had.
Joyce learned through investigating on Facebook that David had moved from Minnesota to Oregon to be with a woman he met online.  At Joyce's request, her case worker reached out to David at the number she provided.  David was eager to talk: he called Joyce an unfit mother with an unstable living situation, who'd  been arrested for domestic violence in their home more than once. Joyce had admitted this happening once, but described David as mutually at fault for his emotional and verbal abuse of her and the children.  He said he finally had to throw her out of his house due to her unstable behavior.  David said Joyce knew he was planning to move away and despite his concerns about her parenting he'd given her a chance to get on her feet and keep Christian with her, but she couldn't do it.  In the end, he said Joyce didn't stand in the way of him taking Christian because she knew she had no place for him.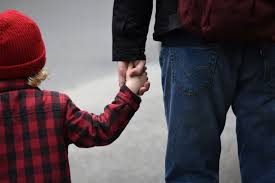 David claimed he had sole custody of Christian (it turned out he did not), but the case worker informed him that this does not give him a legal right to cut off Joyce from contact with her son.  He said he would not allow Joyce to speak to Christian because it would be bad for him.  He stated that if Joyce wanted to take him to court she should go ahead, but he did not provide his address for service of a summons.  David also talked a great deal about his house back in Minnesota, which he knew Joyce had moved back into, saying she had no right to be in it and that he wanted it sold.
Joyce reported the abduction to state authorities, who investigated David for educational neglect because he did not immediately enroll Christian in school in Oregon.  When David finally enrolled Christian, Joyce was able to work with Christian's former school in Minnesota to find his new school, through the transfer of school records.  Her case worker informed her about the Family Educational Rights and Privacy Act (FERPA) and assisted her to use it in making a records request to Christian's school in Oregon.  In this way she was able to obtain the home address for David and Christian and with the help of her tribal attorney, she was able to serve him a summons for child custody to appear in tribal court back in Minnesota.
Christian is now returned, happily living with his mom – at least on a temporary basis – for the duration of the custody proceedings.  And Joyce is happy not only to be reunited with her son, but to have a home for both of her sons. Rather than being homeless, Joyce realized her family was truly "home for the holidays" having learned through contact with a mortgage lender, that she had been joint owner of "David's" house all along, despite his attempts to convince her he was the sole owner.