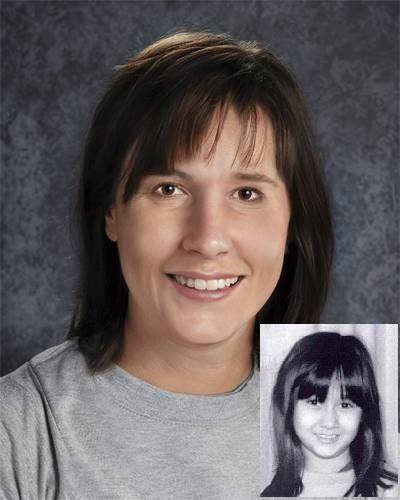 The photo in the center shows Jenna age progressed to 30 years.
Date of birth: January 24, 1980
Hair: Brown
Eyes: Brown
Child Find Case #: 10898
Jenna was last seen entering a gray 2-door Dodge or Plymouth in Killeen, Texas on May 14, 1989. A friend reported Jenna being lured into the vehicle. The driver was a white male seemingly between the ages of 20 and 22. He had brown hair and was traveling west on Garrison.
Jenna has a small scar on her right eyebrow and freckles on her left cheek. She was last seen wearing black and green spandex pants, a shirt with a tree design, and white sneakers.
If you have any information regarding Jenna's disappearance, please contact the Killeen Police Department at 1-254-200-7004, or Child Find of America at 1-800-I-AM-LOST (1-800-426-5678).