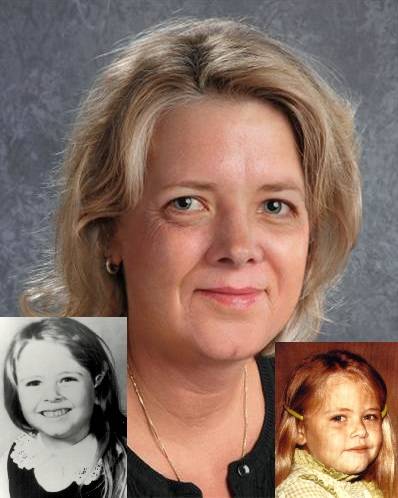 The photo in the center shows Cynthia age progressed to 53 years.
Date of birth: July 18, 1968
Hair: Dark blonde
Eyes: Blue
Child Find Case #: 11578
Cynthia was last seen playing outside of her apartment complex in San Jose, California on April 27, 1974.
She was wearing a red and white striped sleeveless shirt with a blue star on the front, purple pants, and no shoes. "Cindy" has a small cowlick on the right side of her hairline, a small cleft in her chin, and a mole on the left side of her lower back.
If you have any information regarding Cynthia's disappearance, please contact the San Jose Police Department at 1-408-277-8900, or Child Find of America at 1-800-I-AM-LOST (1-800-426-5678).