Public Education
Child Find's Executive Director and Staff conduct trainings and participate in national and regional workshops, conferences and webinars, with parents, service professionals and organizations regarding missing children, domestic and interpersonal violence, child abuse/neglect, mediation, healthy families and more.
By calling Child Find at 1-800-716-3468, parents, educators, law enforcement and human service professionals, nationwide, gain access to our comprehensive information and referral network. Our information and referral specialists provide connections to the resources callers need on a variety of topics including: missing children, abduction prevention, safely managing crisis situations, available support systems and, of course, keeping kids safe.
Child Find's Facebook page, Twitter page, and website all call attention to relevant issues and provide access to free educational and prevention materials.
Child Find's DocuPaks – which help families keep vital information about their children on hand in case of emergencies – are free to individual families upon request. Just visit our Contact page and tell us how many you need. Be sure to fill out your contact info accurately: name, address, and email or telephone number. We will be in touch with you to confirm before we ship.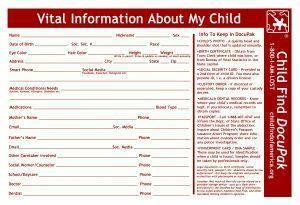 Our free Prevention Print-Outs are quick guides that are full of easy-to-read tips for families about a variety of different topics from Bullying, Parental Abduction, and School Year Safety. You may need to download the free Adobe Acrobat Reader to view and print them.
Child Find teamed up with the American Legion's Child Welfare Foundation to create our In Safe Hands tool kit. View here.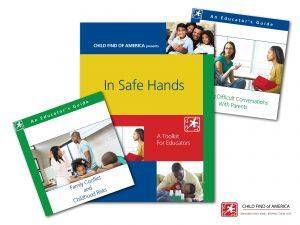 Trainings For Professionals
Child Find's in-service training of allied professionals increases understanding and strengthens our ability to deliver our core mission to prevent and resolve child abduction. Child Find's 35 years of service in the field of child safety, crisis management, and safety planning make our trainings invaluable to professionals and agencies dealing with these issues – and more.
Click here to find out more about Child Find of America's Professional Training Programming.